Wij bouwen in Mganja een middelbare school voor meisjes. Wij doen dit samen met een heleboel partners en donor organisaties. De school is in januari 2022 officieel geopend. Zie hieronder onze update letters. Momenteel werven we fondsen voor de laatste woningen voor de leerkrachten en het tweede girls's hostels. Het projectvoorstel tref je ook hieronder aan.
Op onze pagina "Ineke in Malawi" lees je de laatste nieuwtjes.
Update on TIYENDE PAMODZI GIRLS SECONDARY SCHOOL
September 2020: Handover Phase 1
We are pleased to announce that our contractor has handed over the two classrooms and the administration block of our Tiyende Pamodzi Girls Secondary School to the Diocese of Dedza. Although the handover had to be done without the village girls that will be our students (because of the Covid-19 regulations of the Malawian government) it was a very happy occasion!
Further construction
We are also glad to share the news that we have already started the construction of two staff houses (one semi-detached house). Mid-August it became clear that two donors were so kind to bring forward their commitment to help our school so the necessary amount was reached more early than expected. This was very fortunate because the contractor did not have to leave the site and was able to continue working. The contractor wants to work quickly to avoid the rains that will start in November. This means the whole work of this first block of two staff houses could be finished by December or the beginning of January.
Opening of the school
The government of Malawi has recently come up with a structured plan for re-opening of schools in Malawi. The new academic year will start January 4, 2021 (instead of September 2020) if all goes as planned. This means that the Tiyende Pamodzi Girls Secondary School will be able to receive its first batch of Form 1 students in January 2021.
So, from now on we will concentrate our efforts on being ready for the opening of our school in January 2021. We will continue our communications with the Ministry of Education about staff, curriculum and materials.
Tiyende Pamodzi Girls Secondary School
Our vision to open a school that combines the Secondary School curriculum with the teaching of skills is, more than ever, proving to be necessary and desirable. Lately the education of girls got a lot of attention in the Malawian media. Because schools were closed (as a Covid-19 measure) many girls have become pregnant and are dropping out of school completely. Nationwide this is seen as a major concern. In our region our Traditional Authority, TA Kachindamoto, has taken up this issue. She has dissolved under age marriages and ordered all girls, also when pregnant, to go back to school.
The Minister of Gender, Children and Social Welfare, Patricia Kaliati, has pronounced the necessity of teaching skills to young girls. We intend to look for dialogue with both TA Kachindamoto and the Ministry of Gender, Children and Social Welfare to see how we can work together in developing programmes that keep girls in school and include both the Secondary School curriculum and the development of skills for girls.
Covid-19 situation
The prevalence of Covid-19 in Malawi is stable and even curving downwards. The number of positive cases in September so far is very low, the number of deaths stable at a total of 176. The government has put in place strict measures for the re-opening of schools. We will continue our work within the restrictions as upheld by the Malawian government.
Update on TIYENDE PAMODZI GIRLS SECONDARY SCHOOL
JULY 2020
We are happy to be able to show you the progress of the construction of our Tiyende Pamodzi Girls Secondary School. The two buildings of phase A are almost finished. In the next few weeks only painting, glazing and some finishing touches will be needed for the buildings to be ready for use.
Construction of the latrines is now in progress. Roofs are finished. The roof of the classroom block has sky lights to give our students more light during classes. The roof of the administration block is supposed to have solar panels in the near future so no skylights on that building.
Drainage, ramps for disabled persons, the buildings will be completed well and in a thoroughly manner. So far we are very satisfied with the performance of our contractor PBM Construction. The photographs have been taken on July 6th, 2020.
Covid-19 Pandemic
The first Covid-19 cases in Malawi have been reported at the beginning of April 2020. For the first few months few cases were reported, most of them were Malawians coming home from other countries, especially South-Africa and Tanzania. It did not affect our construction works. Recently numbers have started to rise. The situation is getting more dangerous and insecure. All schools have been closed since April. As of today it is uncertain when they will open again. For our project this means, at present, the following.
We will be able to finish construction of phase A (administration block and two classrooms) according to plan in July 2020. But because of the Covid-19 situation we are facing some questions that we are unable to answer at present. Will schools be able to open again before September? If so, will schools have to finish the still ongoing school year first, meaning a new school year will not start in September but later in the year? We are waiting for new guidelines on Covid-19 for Malawi that will be set by the new government. Which brings us to the next subject.
A new president, a new government for Malawi
New Malawian presidential elections took place on June 23rd, 2020. The elections of 2019 had been successfully contested and annulled, so new elections were ordered by the courts of Malawi. 58,5% of the Malawian voters have chosen Dr. Lazarus Chakwera for president. He is the leader of the Malawian Congress Party, and also of Tonse Alliance, a political alliance of almost all the opposition parties. He was sworn in on Sunday 28th of June and inaugurated on July 5, 2020.
His new government is dedicated to fight corruption, work hard for development and work together with the people in unity. In his first week of government several actions in this direction have already been taken. This gives us confidence that our project will be met with continuing support from the government side, maybe even more so than before.
Progress and finances
Construction so far has been done within the budget as agreed in our contract with PBM Construction. The next phase of the project will be a semi-detached double staff house. We hope to start construction in September/October, depending on available funding. Our contractor is ready to continue with the next building at any time.
At present we are in communication with several possible co-funding partners. At the end of June we have also sent project plans to several German donor organisations with an appeal to co-fund the project. We keep searching for other opportunities and will keep you updated.
We keep on fund raising, networking with government offices, and preparing our school and school grounds, as much as is possible within the restrictions that come with the Covid-19 pandemic. We fervently hope that the pandemic will be under control soon, so that lives can be saved, and our Task Force will be able to continue our work with full force.
Update on TIYENDE PAMODZI GIRLS SECONDARY SCHOOL
April 2020
The year 2020 started with a logo for our Tiyende Pamodzi Girls Secondary School! It shows our determination to make our dream a reality. The year 2020 also started with a period of unusual heavy rains. This prevented our contractor to take possession of the site early January.
Another delay occurred because relatives of the people who sold us the land for the school blocked the road to the project site. They wanted money from their relatives and thought to make their point clear by involving us. As these people did not want to listen to anybody (not even the Group Village Headman and the Traditional Authority Kachindamoto, who ordered them to clear the road) we had to go to court. On February 7th, 2020 the case was before the High Court in Lilongwe. The trespassers were given an injunction. The road was cleared.
Progress on the project site
On February 25th, 2020 PBM Construction, our contractor, arrived at the site. They started construction immediately. Since that day they have been working constantly, diligently and in a well ordered fashion. We started with the administration block and one block of 2 classrooms. If construction can continue at this rate, these buildings will be finished in June 2020.
First phase: fundraising and financial situation
Since our previous up date letter we have been submitting a lot of project proposals in various countries. Some have already been successful. Others are still in review. However, the international corona crisis is affecting the financial progress of our project. Three donor organisations were scheduled for a visit to the project site in March. All of them had to cancel their trips to Malawi. Some funding has been postponed.
After discussion with some of our donors we have decided to put all our efforts towards finishing the construction of the buildings that we have started and towards opening of the school in September 2020. The following considerations were made:
The Ministry of Education has indicated that, if staff houses are not ready in time, we are allowed to find accommodation in the village (temporarily). We could still open the school in September if we finish the administration block and double classroom block.

We have already started construction of the administration block and double classroom block. It would be wise to finish them (even if we won't be able to open the school in September, due to other unforeseen circumstances like a full corona outbreak in Malawi).
This means that the construction of the staff houses will be postponed. Construction of the first double staff house block will be next in line. The funds still to be received, as indicated below, are not far from the amount we need. But we will not start construction before we are sure of having the funds to pay for the whole building. Both the GF Goeldner Foundation and Nazareth Foundation Malawi are confident that the remaining 10.846 euro will be found ere long.
Ministry of Education
At the end of January we had meetings at several offices of the Ministry of Education. The Ministry has embraced the project. They especially appreciate our efforts towards helping girls in a rural area. They are happy to give their support. This means they will also pay the salaries of the teachers.
EIMU
The EIMU (Education Infrastructure Management Unit) informed us that the building plans for the school are in order. Few minor comments were highlighted where it is necessary to amend. Since then corrected drawings have been delivered at the offices of the EIMU. The EIMU also requested us to consider stand alone houses for teachers. We informed them by letter that we cannot conform to this because of the additional funds this would cost and the contracts we have with our donor organisations.
Director of Secondary Education
The Director of Secondary Education informed us that formerly requirements for school buildings were minimal. But this has changed two years ago, because of a new curriculum that is more science orientated. Nowadays a laboratory and library are compulsory. The laboratory because of the science subjects, the library because the government is not able to provide books for every student. Therefore the students need to use the library where they can share books. She therefore encouraged us to build the library and science block as soon as possible.
However, because we are phasing the project according to funding, and because each class room will have it's own storeroom, she temporarily allowed us to use the class rooms also as a library and laboratory. She gave permission to start with only Form 1, single stream, growing each year with new Form 1 students. The Director of Secondary Education agreed with the focus of our school on teaching skills for girls within the existing curriculum.
Education Division Manager
The Education Division Manager (EDM) agreed with our plan to phase the project: starting with 1 block of 2 classrooms (with latrines) and the administration block. He would welcome 2 staff houses to be ready in September for the head teacher and deputy head teacher. However, if we cannot manage this in time, we are responsible to find 2 good houses in the village for these teachers to rent. The other teachers can find rent houses by themselves for the time being.
The EIMU should be advising us during construction. When we are nearing completion we have to inform the EDM. Their office will come for a final inspection. If the classrooms should be ready by the end of July or mid August, there will be enough time to open in September. The EDM would like us to work together into that direction. At that point in time the EDM is responsible for providing a starter pack of books and materials, selection of teachers and selection of students.
The government will send 60% of the students (coming from primary schools in the area) and Tiyende Pamodzi is allowed to choose the other 40%. We will be allowed to admit girls coming directly from primary schools but also drop out girls who want to come back to school according to the re-admission policy for girls of the government.
Duty Waiver
At the end of December we asked the Director of Planning of the Ministry of Education to write a letter to ask for a duty waiver from the Commissioner of the Malawi Revenue Authority (MRA). Our request was granted and a letter has been sent to the MRA in January. This means we will not have to pay taxes for our project.
Update on TIYENDE PAMODZI GIRLS SECONDARY SCHOOL
December 2019
Tender
Under the supervision of the office of our architect, Atelier & Others, we went through a successful tender. Seven contractors were invited to apply for the job. Three contractors were eligible. PBM Construction came out as the best of the three eligible contractors. This company comes with high recommendation. Several Missionaries of Africa have worked with this company with high satisfaction.
Financial outcome of the tender
The tender outcome, however, is much higher than the quotations on which our budget plan was based. We identified several reasons for this: the quality is much higher, the buildings are bigger (due to the requirements of the Ministry of Education), the foundation is stronger and we will use cement blocks in stead of local bricks (to prevent further deforestation).
This means we will have to build this project in phases and start with more fundraising immediately.
Opening date of the school for Form 1 will still be in September 2020.
Signing of contract
On December 9, 2019 we met with the architects of Atelier & Other and the contractor Dr. Peter Matipwiri from PBM Construction. Dr. Matipwiri had several useful suggestions about phasing of the contract. He welcomed donors to come and see the project site, possibly even helping out during building to experience the progress by their own hands.
We signed the contract under condition of availability of funding.
Ministry of Education
On the same day we had another meeting at the Ministry of Education, this time with the Director of Inspection and Advisory Services. Their Directory will conduct inspections during the building period. We were given permission to start seeing the Director of Secondary Education for guidance on the hiring of teachers and headmaster/mistress and the curriculum.
Fundraising
We have already started sending applications to donor organisations in the Netherlands, Germany, Malawi and Spain. Within the next two weeks, applications will be sent to at least 15 donor organisations. The application for the Rotary Global Fund is also under way.
Building site
On December 12th, 2019 the architects and contractor came to the project site. The architect again explained the project, questions were answered. Then the project site was given into the hands of the contractor.
One week later, on December 19th, the contractor brought a grader to the site. Within 2 days the road from the Health Centre to the project site was constructed. At the same time the project site was cleared for building.
Immediately after the Holiday Season, the contractor will take possession of the project site. He will bring in the necessary equipment and materials. Then construction of the first block of classrooms and the administration block will start.
Image: Albert Kiefer
UPDATE SEPTEMBER 2019
Update on NAZARETH SECONDARY SCHOOL FOR GIRLS
September 2019
Name of the school
The Task Force of the school has decided to give the school a name in the local language. The name will be: "Tiyende Pamodzi Girls Secondary School". Tiyende Pamodzi means: "Lets walk together".
Permission
In addition to the letter from the District Commissioner of Dedza (DC) in which permission to have a girls Secondary School in Mganja was granted, we also received written permission from the Ministry of Education. We had meetings with several departments of the Ministry of Education. We will continue working closely together with them on the building plans, the curriculum and the selection of teachers.
Project site
The land has been officially purchased. Beacons have been put in place. The boundary (1,230 meter) has been cleared with the assistance of three football teams of Mganja, each team given a good football for their work. The football teams have also dug holes every three meters. As soon as the rainy season starts (November / December) we will plant trees all around the border of the project site.
Access Road
The villagers have prepared a road onto the project site. The official entrance will be at the Health Centre in the centre of Mganja.
Borehole
A borehole has been drilled through the financial assistance of Cindee Rood from the American organisation "Formidable Joy". The borehole was finished on Friday 16th of August.
Task Force
Our Task Force had five extensive and fruitful meetings. Points of discussion were among other things: land issue, communication, architect, designs and tender.
Girls Hostel
Initially we planned a school bus for students living too far away for daily commute. By now we are of the opinion that it is safer and more conducive to their studies if we can offer these students a hostel. Therefore we have added a girls hostel to our budget plan. We are actively searching for funding for this girls hostel.
Library and science block
At the Ministry of Education the responsible civil servants and the Secretary of Education were very much in favour of our school. They also agreed with our plans to extend the curriculum with courses of practical skills. They promised us their support on this issue.
The Ministry of Education made it clear that a library and science block are compulsory for the school. Therefore we added this block to the budget plan. As we will start with only form 1, we can exchange a school block for the library and science block, adding the school block later. This depends on the outcome of the tender.
Baby nursery
We have decided to build the baby nursery as a separate building, so as not to disturb teachers and students. We have applied for a grant for building this baby nursery at the American Embassy in Malawi.
Architect, designs and tender
We were able to find a competent and reliable architect to help us with the designs for the school, make the building plans, deliberate with the Infrastructure Department of the Ministry of Education, identify contractors and make everything ready to go to tender at the end of September. Building works should start at November 15th, 2019 and finish 15th May 2020.
Fund Raising
We had several visits from donor organisations. The Spanish Eki Fundacion came for the second time and has promised to help us installing the solar electricity system. The German development organisation DESWOS came to have a look at the site. They are considering our project proposal for their budget in 2020. Wild Geese from the Netherlands came to make photographs and videos for their new corporate campaign.
The Goeldner Foundation from Germany stayed almost two weeks for their yearly visit. Together we visited the site and an extensive Task Force meeting. We also went together to a meeting at the Rotary Club Lilongwe. The Rotarians promised to support an application of the German Rotary Club Rendsburg to the Rotary Global Fund. We also visited the German Ambassador in Lilongwe who received our project with open arms and assured us of his assistance.
We identified several new possible donor organisations. We will write a new project proposal after we have the outcome of the tender. Then we will apply for funding with these organisations.
UPDATE JANUARI 2019
Er is al veel gebeurd sinds we begin 2018 het projectvoorstel hebben geschreven. Het ziet er naar uit dat we ons doel gaan bereiken: in september 2020 kunnen de eerste meisjes naar school!
Donaties
Sinds maart 2018 hebben we met succes verschillende donororganisaties benaderd. We hebben 17.000 euro ontvangen. En 118.500 euro is toegezegd. Wij danken daarvoor de volgende donoren:
* Seacon Logistics
* Goeldner Foundation
* Joost van der Stok
* Stiftung Bildung und Kultur
* Boeken Steunen Mensen
* Low Hock Peh and Chon Chai Lian Foundation
* Struan Foundation
* Stiftung Fly & Help
De Nederlandse organisatie Wilde Ganzen gaat ons project ook steunen. Het geld dat we zelf in 2019 ophalen met behulp van particuliere donateurs in Nederland wordt door Wilde Ganzen met 50% verhoogd. We hopen in totaal ongeveer 25.000 euro op te halen.
De Duitse organisatie Goeldner Foundation werft fondsen in Duitsland, speciaal voor dit project. We hopen dat ook zij 25.000 euro kunnen bijdragen.
Hiermee hebben we genoeg geld om de school te kunnen gaan bouwen. We gaan door met fondsenwerving voor de bouw van docentenwoningen. Zonder deze woningen is het onmogelijk om goede docenten aan te kunnen trekken.
Samenwerking
Er zijn veel partijen waarmee we samenwerken, zowel in Malawi, als in Nederland en Duitsland. We steken daar veel tijd in. Het is erg belangrijk dat het project breed wordt gedragen, wil het kunnen slagen.
Tot dusver hebben we nauw samengewerkt met:
De locale gemeenschap:

De chiefs van de 11 dorpjes van Mganja
Group village headman Mganja
Traditional Authority Kachindamoto

Het bisdom Dedza:

Father Philip Meraba, parish priest
Father Chimchenga
Father Mwazambumba
Mr. Pengapenga

Member of Parliament Juliana Lunguzi
De Goeldner Foundation in Duitsland
De overige donor organisaties
Task Force
We hebben inmiddels ter plekke een Task Force opgericht. De Task Force begeleidt de bouw en ontwikkeling van de school. Zodra de school is gebouwd en in bedrijf is, wordt deze Task Force officieel door het bisdom omgevormd tot een raad van bestuur. Een aantal ouders zullen worden toegevoegd aan deze raad van bestuur.
De Task Force bestaat uit:
The Reverend Father Philip Meraba, Mua Parish Priest
Amayi Josephina Ketulo, community member
Abambo Josefe Kudambo, community member
The Reverend Father Isaac Mwazambumba, chair of the Diocesan Projects Committee
The Reverend Father Venancio Chimchenga, Acting Treasurer General
Abambo Z. Pengapenga, Diocesan Education Coordinator
Sister Josefa N'gona, initiator of the project
Amayi Drs. Ineke Hendrickx, project leader
Aannemer
We zijn op zoek geweest naar betrouwbare aannemers en hebben er een gevonden. Natuurlijk zullen we offertes van verschillende aannemers vragen voordat we met de bouw gaan starten.
Meubilair
Meubilair voor de school afkomstig uit Nederland is in Nazareth gearriveerd op 17 september 2018. Het is veilig opgeslagen om te worden gebruikt zodra de school is gebouwd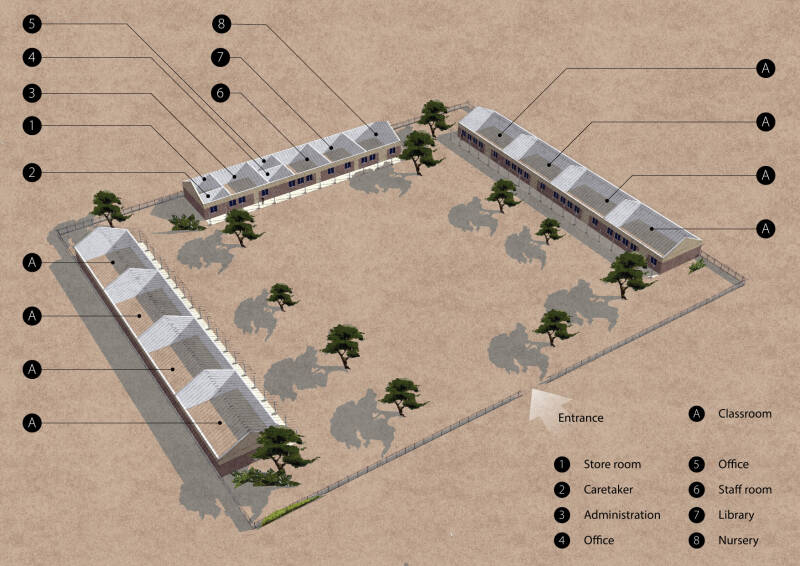 Image: Albert Kiefer
Nazareth Middelbare School voor Meisjes, Malawi
Projectplan - maart 2018
Doel
Bouwen en besturen van een middelbare school voor meisjes in Mganja, Malawi.
Beheren van een schoolbus. We hopen het eerste gedeelte van de school eind 2019 te kunnen openen.
Inleiding
Er is momenteel geen middelbare school in Mganja, hoewel daar grote behoefte aan bestaat. De wens om een school te gaan bouwen komt van verschillende kanten. Mensen uit Malawi hebben voorvechters uit Nederland, Duitsland en Maleisië ontmoet. We hebben onze krachten gebundeld. Stichting Nazareth Foundation Malawi neemt het voortouw. We willen een middelbare school voor meisjes stichten, inclusief zwangere meisjes en jonge moeders. Naast het door het rijk voorgeschreven curriculum willen we ook praktische vakken onderwijzen om het dagelijks leven voor deze meisjes, en hun (toekomstige) gezinnen, te verbeteren.
Nazareth
Nazareth is een plek voor "human and spiritual development", gebaseerd in Mganja, regio Dedza, Malawi. Nazareth is opgericht door Sister Josefa Ng'ona (zie foto). Zij heeft het klooster verlaten om haar droom waar te maken: een plek creëren waar ieder mens kan bloeien, zelf-vertrouwen kan ontwikkelen, zijn of haar talenten kan ontplooien en dit alles te delen met de gemeenschap.
Nazareth initieert en ondersteunt projecten die het dagelijks bestaan van de inwoners van Mganja en omliggende dorpen verbeteren, met een focus op (wees-)kinderen en vrouwen.
Probleem
Het is de verantwoordelijkheid van de regering om de burgers van Malawi onderwijs te bieden. De regering is daar echter niet toe in staat (vandaar het grote aantal scholen in handen van de Katholieke kerk en andere private organisaties). Hierdoor blijft de omgeving van Mganja verstoken van een middelbare school, zonder uitzicht op verbetering. Zowel de regering als het diocees Dedza ontbreekt het aan middelen om een school te bouwen. De regering is echter wel bereid om salarissen van leerkrachten voor haar rekening te nemen, ook van een private school. Daarom zijn wij nu op zoek naar fondsen voor de bouw van een middelbare school, zodat de meisjes en jonge vrouwen in en rond Mganja toegang kunnen krijgen tot middelbare schoolonderwijs en daardoor hun talenten kunnen ontplooien en uitgroeien tot verantwoordelijke ouders.
Waarom meisjes?
Veel meisjes uit de dorpen in en om Mganja gaan niet naar een middelbare school. Er is veel schooluitval, al op de basisschool, van meisjes die zwanger worden. Degenen die de basisschool wel afmaken moeten, om een middelbare school te kunnen bezoeken, in de kost of naar kostschool. Velen van hen worden dan alsnog zwanger. Meisjes die zwanger worden, worden van school gestuurd en verliezen hun kans op onderwijs.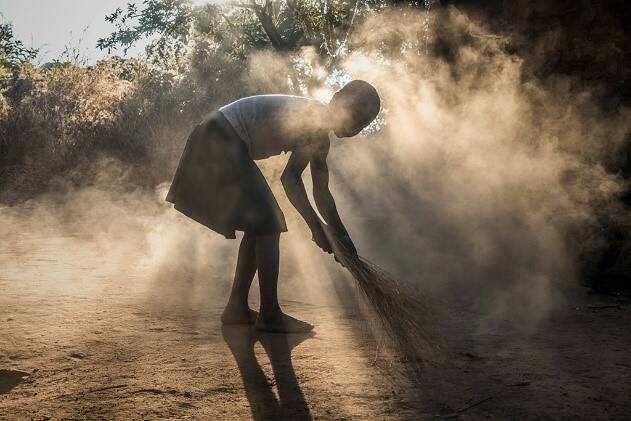 Foto's: Benjamin Jordan
De meeste meisjes gaan echter helemaal niet naar school, na de basisschool, maar blijven thuis omdat ze geen schoolgeld/kostgeld/reisgeld kunnen betalen. Zwanger worden en het hoofd worden van een eigen huishouden is de enige toekomstmogelijkheid die deze meisjes zien. Zij hebben geen voorbeelden van (betaald) werkende vrouwen, behalve van onderwijzeressen en gezondheidswerksters.
Malawi is één van de armste landen van de wereld. De regio Mganja is een arm, agrarisch plattelandsgebied. Er zijn geen banen behalve bestaans- en marktlandbouw. Er is geen elektriciteit en geen stromend water. Water moet worden gehaald bij de dorpspompen. Er is een klein gezondheidscentrum, met één gezondheidswerkster. En er is een lagere school.
Alle mensen leven beneden de armoedegrens van 2 dollar per dag.
Wat willen we bereiken?
Door meisjes (ook als ze zwanger zijn) en jonge moeders een opleiding te bieden kunnen hun levensomstandigheden, en die van hun gezinnen, verbeteren. Daardoor zal de levens-standaard van de gehele gemeenschap verbeteren.
Hoe willen we dat bereiken?
Door het bouwen en besturen van een middelbare school voor meisjes en jonge moeders in Mganja, Malawi.
Door met een schoolbus vervoer te bieden aan meisjes van afgelegen gebieden.
Door aanvullend curriculum met praktische vakken zoals voedingsleer, kinderverzorging, huishoudkunde, koken, biologische landbouw, naaien en dergelijke.
Door kinderopvang aan te bieden, zodat ook jonge moeders lessen kunnen bijwonen.
Aan wie komt dit ten goede?
We verwachten uiteindelijk in totaal 240 leerlingen verdeeld over vier leerjaren, dus ongeveer 60 per leerjaar. Het gaat om meisjes, inclusief zwangere meisjes, en jonge moeders uit de dorpen in en rond Mganja. Deze meisjes hebben geen andere mogelijkheid om naar een middelbare school te gaan. Een middelbare schoolopleiding voor meisjes zal bovendien ten goede komen aan de hele gemeenschap, vooral omdat de Nazareth Middelbare School voor Meisjes het curriculum wil aanvullen met praktische vakken, die nuttig zijn voor het leven in het dorp en kunnen helpen bij het ontplooien van activiteiten die inkomsten opleveren.
In de streek waar Mganja ligt praktiseren de mensen matrilineaire huwelijken. Daarbij verlaat een man zijn thuis om te verblijven in het huis van zijn vrouw. De vrouwen hebben landrechten en hebben het "bezit" over hun kinderen. Dit betekent dat vrouwen altijd toegang hebben tot landbouwgrond en een plek om een eigen huis te bouwen. Vrouwen hebben, indirect, invloed op besluitvorming in het dorp. Hierdoor zijn vrouwen in de regio Mganja tamelijk autonoom. Het opleiden van vrouwen heeft daardoor invloed op het hele dorp.
Is het nodig?
Het gebrek aan een middelbare school in de omgeving van Mganja wordt sterk gevoeld. Wij komen jaarlijks in dit gebied en zien daar met eigen ogen dat de behoefte groot is.
Zowel de Traditional Authority Kachindamoto als de dorpshoofden ondersteunen de wens.
Het diocees Dedza, via het bureau van de education officer, onderschrijft dat er een middelbare school nodig is in Mganja.
Het Ministerie van Onderwijs, via het bureau van de District Education Manager (DEM) stemt er mee in.
Malawi is één van de armste landen in de wereld. Malawi staat op de 170e plaats (van de 188) in de Human Development Index 2016. 50,9 % van de leerlingen maakt de basisschool niet af. Slechts 39 % van de kinderen bezoekt een middelbare school. Het gemiddeld aantal jaren onderwijs is voor mannen 5 jaar en voor vrouwen 3,8 jaar.
Lokaal onderzoek laat het volgende zien: De bevolking van Mganja omvat ongeveer 5.000 mensen. Het aantal meisjes op de Primary School Mganja in de hoogste, achtste klas aan het eind van 2015 was 61. In 2015 werden 66 meisjes in de leeftijdsgroep 13-19 in de regio Mganja zwanger. In 2016 was dat aantal 51.
De mensen die in de Mganja regio wonen ervaren dagelijks hoe zwaar het is om te leven beneden de armoedegrens. Als de oogst mislukt door gebrek aan regen (er is jaarlijks maar één regentijd) dan hebben de mensen niet genoeg te eten. De bossen rondom Mganja zijn verdwenen omdat de mensen, om geld te kunnen verdienen, de bomen hebben gekapt om houtskool te maken. Er is grote behoefte aan (menselijke) ontwikkeling.
Door meisjes en jonge vrouwen les te geven in middelbare schoolvakken EN praktijkvakken als kinderverzorging, huishoudkunde, biologische landbouw, naaien en gezonde voeding draagt dit project bij aan een aantal doelstellingen van de Verenigde Naties: the
United Nations Sustainable Development Goals: 1: geen armoede, 2: geen honger, 3: goede gezondheid, 4: hoogwaardig onderwijs, 5: gendergelijkheid, 11: duurzame steden en gemeenschappen en 12: verantwoord gebruik van hulpbronnen.
HET PROJECT
Project locatie
Het project is gesitueerd in Mganja, een groep van 10 dorpjes binnen de Traditional Authority Chief Kachindamoto. Voor de leerlingen uit Mganja ligt de school op loopafstand. Het brongebied voor leerlingen zal echter groter zijn dan de Mganja regio. Binnen een afstand van ongeveer 15 kilometer liggen 10 basisscholen. Ook meisjes die deze scholen doorlopen hebben kunnen gebruik maken van de Nazareth Middelbare School voor Meisjes. Omdat de afstand voor deze meisjes te groot is om te lopen zijn we van plan een schoolbus te onderhouden voor deze leerlingen.
Schooltype en bestuur
De Nazareth Middelbare School voor Meisjes zal worden opgezet als een "Grant-in-Aid"-school. Dit betekent dat het een kerkelijk/privaat gestichte school zal zijn, bestuurd door de Nazareth Board of Governors. De school zal worden gebouwd en onderhouden door de Nazareth Board of Governors, met hulp van donoren, in nauwe samenwerking met het diocees Dedza. De landrechten komen op naam van het diocees. De overheid levert en betaalt de leerkrachten en het lesmateriaal. De Nazareth Board of Governors benoemt het hoofd van de school en de beheerder/administrateur.
De leerlingen krijgen onderwijs in alle vakken waarover het rijk examens afneemt, zodat zij hun MSCE kunnen halen: het Malawi School Leaving Certificate of Education. De Nazareth Board of Governors zal extra vakken toevoegen. Enkele daarvan zijn huishoudkunde, kinderverzorging, biologisch tuinieren, naaien, koken, bouwen, houtbewerking en kweken en planten van bomen tegen ontbossing.
Nazareth Board of Governors
De Nazareth Board of Governors, het bestuur van de school, zal worden opgericht in april 2018. Onderstaande mensen en organisaties hebben zich bereid verklaard om deel te nemen:
Father Isaac Mwazambumba (priester binnen het diocees Dedza, Voorzitter Projects Committee Dedza Diocese, uitgebreide ervaring in het bouwen en besturen van grote projecten)
De heer Z. Pengapenga (educational officer binnen het diocees Dedza, expert met betrekking tot het curriculum en bestuur van scholen, zal de contacten onderhouden met de overheid)
Sister Josefa Ng'ona (momenteel hoofd van Nazareth, ervaring als abdis van een klooster, leider van ontwikkelingsprojecten en als lerares Chichewa)
Mevrouw Juliana Lunguzi (parlementslid voor de regio Dedza-East, voorvechter van de rechten van Vrouwen, initiatiefnemer van vele projecten voor onderwijs en tegen armoede, kan adviseren over overheidszaken)
Mevrouw Drs. Ineke Hendrickx (projectleider, onderwijzeres, antropoloog en politica)
De heer Dr. Jürgen Arimond (psycholoog en psychotherapeut)
Ontwerp
De school zal bestaan uit drie gebouwen: 2 gebouwen met elk 4 klaslokalen en 1 bestuursgebouw. In totaal komen er dus 8 klaslokalen. We verwachten uiteindelijk 60 leerlingen per schooljaar, 240 leerlingen in totaal, wat over vier leerjaren leidt tot 8 klassen met 30 leerlingen. In het bestuursgebouw komen een lerarenkamer, kantoren, een bibliotheek en een kinderopvang. Toiletten zullen buiten de gebouwen worden gesitueerd.
images: Albert Kiefer
Fondsenwerving
Wij gaan fondsen werven bij donor organisaties en stichtingen in zowel Nederland als Duitsland. De GF-Foundation in Duitsland is hier speciaal voor opgericht en zal in Duitsland projectvoorstellen indienen. De Stichting Nazareth Foundation Malawi zal dit in Nederland voor haar rekening nemen.
2 projectvoorstellen zijn al ingediend:
De Stichting Boeken Steunen Mensen uit Venlo ondersteunt projecten voor kansarme kinderen. Hiertoe organiseren zij jaarlijks een grote tweedehands boekenmarkt. Ieder jaar ondersteunen zij 3 projecten met ieder 20.000 euro. Het voorstel is ingediend op 7 januari 2018 en wordt beoordeeld voor de ronde van begin 2019.
Naar aanleiding van een projectvoorstel aan Seacon Logistics, een groot transport bedrijf in Venlo, is een donatie ontvangen van 2.000 euro voor het transport van het schoolmeubilair van Nederland naar Malawi.
Wat hebben we al?
De Traditional Authority Kachindamoto (de bewindspersoon met autoriteit over landzaken) en de dorpshoofden hebben op 7 september 2017 besloten de grond voor de school ter beschikking te stellen.
De dorpsbewoners zullen bijdragen door voor de bouw zelf bakstenen te bakken.
We hebben meubilair als donatie ontvangen. Op 3 januari 2018 hebben we overtollig meubilair opgehaald, voldoende om het bestuursgebouw mee in te richten. Er loopt ook een aanbod voor lessenaars en stoelen voor de leerlingen. We hopen dit alles nog in 2018 naar Malawi te verschepen.
Seacon Logistics, een groot transportbedrijf uit Venlo, heeft een donatie gegeven van 2.000 euro om het vervoer van het meubilair van Nederland naar Malawi te betalen.
De eerste, voorzichtige ronde van fondsenwerving in Duitsland heeft eind 2017 al 7.000 euro opgeleverd.
Meer informatie over Nazareth
Nazareth heeft de laatste jaren diverse projecten opgestart. In 2017 hebben we, met geld van de Spaanse organisatie Manos Unidas, een irrigatieproject voor biologische moestuinen gerealiseerd, waar de vrouwen uit het dorp het hele jaar door groenten kunnen verbouwen. We hebben parlementslid Juliana Lunguzi ondersteund in het opzetten van kleutergroepen gerund door vrijwilligers. Nazareth geeft onderdak aan de School of Dreams, waar jonge mensen leren om met een computer te werken. Er is een naaiwerkplaats voor vrouwen. We ondersteunen een aantal studenten door schoolgeld te betalen en enkele families die weeskinderen hebben opgenomen. We hopen in 2018 een kleine dorpsbibliotheek te openen.
De Stichting Nazareth Foundation Malawi is opgericht in Nederland door Ineke Hendrickx en Nico Peters om Nazareth financieel te kunnen ondersteunen bij het bereiken van haar doelen. Sinds Ineke en Nico in 2002 Josefa hebben ontmoet zijn zij meer en meer betrokken geraakt bij het project. Zij bezoeken het project jaarlijks en ondersteunen met geld en door zelf op het project de handen uit de mouwen te steken.
Vanaf april 2018 zal Ineke jaarlijks 6 tot 8 maanden verblijven op Nazareth. Zij zal het project Nazareth Middelbare School voor Meisjes leiden, in nauwe samenwerking met Josefa en de andere deelnemers aan het project, zowel in Malawi als in Duitsland.
De Stichting Nazareth Foundation Malawi heeft het ANBI keurmerk en is lid van de Kamer van Koophandel. De Stichting heeft een eigen website: www.malawivillage.nl
De laatste nieuwsbrief: https://www.malawivillage.nl/nederlands-1/nieuwsbrief-2017
en https://www.malawivillage.nl/nederlands-1/ineke-in-malawi-2019 en https://www.malawivillage.nl/nederlands-1/ineke-in-malawi-2018
ANBI kenmerk 8200.34.113
K.v.K.: nummer 14106974
Credits
Visualisaties: Albert Kiefer Visual Designer: http://kiefer.nl/
Foto's: Benjamin Jordan: http://benjaminjordan.com/